Sarah Palin and Rick Perry still not formally seeking presidential nomination, so Romney and Bachmann will vie for spotlight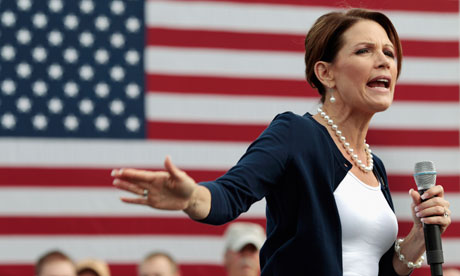 The Republican race for the White House heats up over the next three days, beginning on Thursday night with a nationally televised debate where some contestants will be vying to become the frontrunner and others trying to avoid being knocked out.
With eight declared candidates on stage, it is already a crowded field. But a lot of the focus in the hall will be on two absent
Republicans
: Texas governor
Rick Perry
, who is expected to announce on Saturday that he is planning to join the race, which is likely to see him move into first position; and
Sarah Palin
, who has not declared but will continue her tease of supporters with a visit to Iowa.
The event at Iowa state university in Ames is the biggest of the presidential debates so far as Republicans battle it out to take on Barack Obama for the White House in 2012.
Mitt Romney
, who lost out to John McCain for the Republican nomination in 2008, is the current frontrunner nationwide, while congresswoman
Michele Bachmann
is, according to polls, the frontrunner in Iowa, where the first caucus is scheduled to be held in February.
For other candidates such as businessman Herman Cain, former House speaker Newt Gingrich and former senator Rick Santorum, the debate may be a last chance to prevent their campaigns running out of financial backers and volunteers.
The debate, sponsored by Fox News and the Washington Examiner, will see the debut of
Jon Huntsman
, former US ambassador to Beijing in the Obama administration. Huntsman has positioned himself more to the centre than the others , but has failed to make any impression so far on the campaign.
The debate comes two days before the Iowa straw poll. A good performance could help push a candidate into the top spot. "It puts so much pressure on these candidates to perform well," Chuck Laudner, a former executive director of the Republican party of Iowa, told the Des Moines Register. "A bad performance has the real chance of sinking their straw poll numbers."
Romney failed to connect with voters in Iowa in 2008. He is not officially standing in the straw poll on Saturday, mainly because he knows he would lose it. Huntsman is not standing either for the same reason.
It is a traditionally important election event in which campaign teams invest lots of money and energy; a piece of old-fashioned theatre in which candidates occupy tent space and are available for most of the day to the electorate.
As an added attraction Bachmann is offering live music, provided by a country and western band.
Laudner told the Des Moines Register the best strategy for those taking part in the debate would be to ignore Romney. "They're speaking to the straw poll crowd and they've got him beat at the straw poll already," he said. "If anybody they'd probably take a shot or two at Rick Perry."
The candidate under the most pressure in the debate is
Tim Pawlenty
, the former governor of Minnesota, who is basing his campaign on winning Iowa but has seen Bachmann pull ahead after a strong performance in the last debate in New Hampshire. Pawlenty was widely viewed as being too cautious in that debate, unwilling to take on Romney on issues such as health.
Ron Paul
, an outsider, commands a fervent band of supporters and is good at fundraising, both of which should ensure he does well in the straw poll.
Although much time is devoted to the poll, past results have proved to be a poor indicator of the eventual winner in Iowa, never mind the eventual Republican nominee.
Perry is scheduled to visit Iowa on Sunday after trips to South Carolina and New Hampshire, other early voting states in the Republican nomination battle.
Palin's supporters say they expect her to make an appearance on Friday at the Iowa state fair. She sent an email out on Wednesday that she would be heading to Iowa with her bus tour, which began on the East Coast in May.
The next big debate is scheduled for September, in California, and Perry is likely to be in the race by then.