Barack Obama accuses the US Congress of risking a global banking catastrophe as debt talks collapse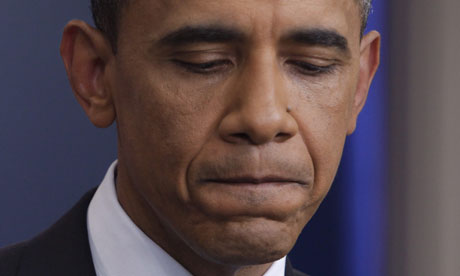 President Obama said he had been 'left at the altar' by the Republican party after debt ceiling talks broke down again at the weekend. Photograph: YURI GRIPAS / POOL/EPA
Talks to stave off a potentially catastrophic US default on debt payments were in crisis as Republicans and Democrats struggled to avert a disaster that could trigger a global economic crisis.
Both sides agree that the US needs to pass legislation to raise its debt limit above its current level of $14.3 trillion (£8.7tn). But negotiations collapsed in acrimony late on Friday over details of a package of spending cuts and tax rises that would help to pay for such a move.
A visibly angry President
Barack Obama
attacked the Republican Speaker of the House,
John Boehner
, for refusing to return his phone calls and then abandoning the negotiations. "I've been left at the altar now a couple of times and I think that one of the questions that the Republican party is going to have to ask itself is: can they say yes to anything?"
If agreement is not reached, it could trigger what had once been unthinkable: a US default on its debt payments. If that happened, most experts predict, it would see a plunge in stock and bond markets worldwide that would threaten a new great recession. The deadline for agreement is just over a week away, on 2 August.
Though most people still expect a deal of some kind before then, preparations for the worst are being made. Obama is being briefed by senior officials on the consequences of default on Wall Street, and major banks and institutions are laying the groundwork for survival investment strategies. "I still believe in the end we will avoid default, but we are playing with fire," said Larry Haas, a former official in the Clinton White House.
Others put it even more bluntly. "Members of Congress are juggling with hydrogen bombs," said Professor John Pitney, a political scientist at Claremont McKenna College in California.
In order to thrash out a deal and get talks started again, Obama ordered top congressional leaders from both parties to meet him at the White House and explain how they were going to move forward.
That demand showed the seriousness of the situation, but also raised the prospect that some sort of "fallback option" could emerge that would see a short-term rise in the debt ceiling. However, such a plan would only be likely to delay the problem until later in the year.
The Republicans have shifted dramatically to the right on economic matters, especially taxation, in the wake of the rise of the Tea Party. The Republicans captured the House of Representatives last year with the help of a number of new members the Tea Party supported.
Many Republicans have signed pledges never to agree to tax rises of any sort and fear a backlash from supporters if they agree to a debt deal that includes attempts to raise money from wealthy Americans and big corporations.
Instead they want a settlement that focuses on slashing programmes such as social security and health spending on the poor and elderly, as well as defence and other parts of the government. So far Obama has sought to accommodate Republican demands and offered more than $1.6tn in government spending cuts, but only in return for tax rises on the rich.
That has not yet been enough to bring Republicans on board.
In a letter to Republicans in Congress, Boehner said: "The White House is simply not serious about ending the spending binge. A deal was never really close."
Obama is also coming under serious fire from Democrats, who accuse him of being a poor negotiator and too willing to meet Republican demands at the expense of the liberal wing of his own party.
Many Democrats have been horrified at the concessions he has already made on cutting government spending on the poor, sick and elderly. They argue that the most vulnerable Americans would pay the bill for a crisis that began on Wall Street. Leading progressives have slammed Obama's tactics and fear that he may agree to even harsher cuts.
Progressive groups, like MoveOn, have sent out campaigning letters and urged phone call protests as a way of persuading Democrats not to back the cuts. "It is tragic what is happening right now," said Robert Greenwald, a Hollywood director turned progressive documentary filmmaker.
Greenwald said ordinary Democrats felt betrayed by Obama. "If he agrees a deal that has these cuts, then the president has done a disservice to millions of people who worked for him to get him elected; who believed in him and who fought for him."
A CNN poll last week backed Greenwald's comments. The survey showed that Obama's approval rating among liberals has dropped to 71%, the lowest level of his presidency.
That, however, may not worry the White House as it focuses on the 2012 election. Some observers believe liberal voters will still turn out in force again to vote for Obama. "Obama has flexibility to move to the right, because he believes progressives will still vote for him. They have nowhere else to go," said Pitney.
But there are signs of growing anger and revolt in the party as Democrats scramble to protect America's already shaky welfare programmes. A few voices are even whispering of searching for someone to lead a primary challenge against Obama. "Who knows? Maybe there will be a challenge from the left. If progressives are disgusted enough, I would not rule it out. It would send a message," said Haas.
Author | Source | Paul Harris | The Observer | July 24th