Rome-based food blogger Katie Parla eats her way around the Italian capital's tastiest pizzerias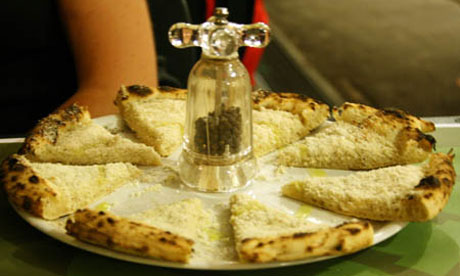 Sforno
Hop off the Metro A near its southeastern end and walk a few blocks northeast for what many tout as
Rome
's best pizza. At Sforno, the pizzas have a thick rim and elastic body (similar to the Neapolitan style), an anatomy that is essential for containing their dense toppings. But before jumping into the pizza, begin with
fritti
(fried starters), like
suppli' alla gricia
, a fried rice ball with cured pork jowl, pecorino cheese, and black pepper, a combination inspired by a Roman pasta. The
cacio e pepe
pizza also takes its cue from a local pasta dish; it is topped with a thick layer of pecorino cheese and coarsely ground black pepper. Wash it down with one of the dozens of craft beers on Sforno's menu.
•
Via Statilio Ottato 110-116; +39 06 715 46118,
sforno.it
. Closed Sun; dinner only
Antico Forno Roscioli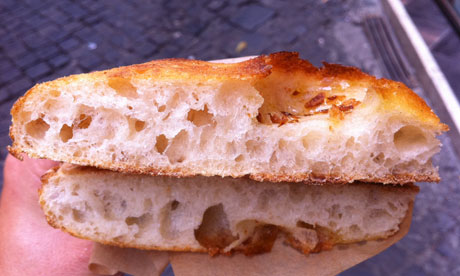 Three generations of Rosciolis have prepared some of Rome's best and most-loved bread in this historic bakery between Largo Argentina and Campo de' Fiori. Their pizza bianca, a sort of Roman flatbread brushed with olive oil, is a cult favourite and is consumed by school children, labourers, young professionals, tourists and grannies with equal gusto. The recipe is simple, combining organic flour, water, salt, yeast and sugar, and the Rosciolis have mastered it, producing a classic snack that is soft and chewy on the inside, crispy on the bottom and lightly toasted on the top. Order it from the counter on the right as you walk in, but don't wait to eat it – it is best when it's fresh. Say "mangio caminando" and you will receive your pizza bundled in paper, ready to eat.
•
Via dei Chiavari 21, +39 06 687 5287,
salumeriaroscioli.com
. Closed Sun, Sat afternoons in the summer
Forno Campo de' Fiori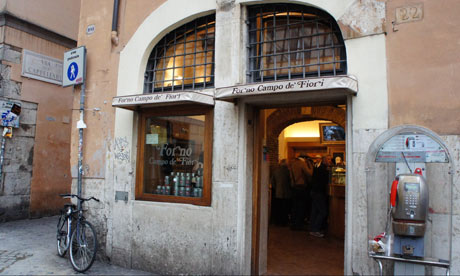 A short walk from Roscioli, another historic address (and one run by another branch of the Roscioli family), turns out crispy pizza bianca and thin pizza rossa (flatbread topped with tomato sauce). If Forno Campo de' Fiori and Antico Forno Roscioli competed for the Roman pizza primacy, the former would win for rossa, while the latter would snag it for bianca. The neighbouring annexe across the alley (Vicolo del Gallo, 14) serves sandwiches and baked goods. Drop in during August and September for a taste of the seasonal treat
pizza prosciutto e fichi
, pizza bianca filled with savory slices of prosciutto and sweet, overripe figs.
•
Piazza Campo de' Fiori, +39 06 688 06662,
fornocampodefiori.com
. Closed Sun, Sat afternoon in summer
La Gatta Mangiona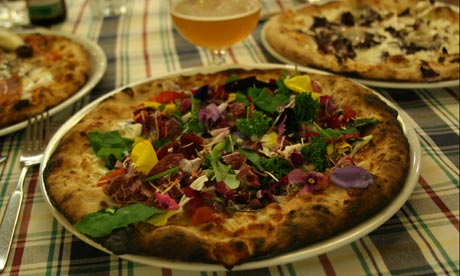 On the surface, La Gatta Mangiona looks like any other neighbourhood pizza place. But upon closer examination, the dishes on offer reveal themselves to be carefully studied exercises in flavour contrasts and gastronomic history. The potato croquettes incorporate leeks, cod, and lemon zest, while the
suppli' con ragu bianco
are made with an 18th-century Neapolitan meat sauce recipe. The pizza ranges from the traditional margherita to the rare
scozzese
(potato, salmon, mozzarella and parsley), but all are made with the same long-leavening high-quality dough. The wine list includes 200 labels, there are 70 types of craft beers to choose from, and the grappa and whisky list surpass that of most Roman restaurants.
•
Via F Ozanam, 30-32, +39 06 534 6702,
lagattamangiona.com
. Closed Mon; dinner only
Da Remo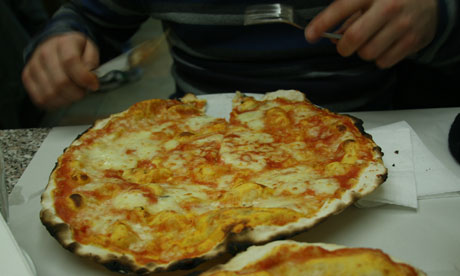 Arrive at this classic Roman pizzeria before 8pm or be prepared to queue for its
scrocchiarella
(crispy thin crust) Roman-style pizza. Take a pass on the
fritti
, which are nothing much to write home about, and start with a plate of beans instead, the old-school approach to Roman pizza meals. The flat and crispy pizzas, which are made in a wood-burning oven, are designed to hold few toppings – meaning here it's the simple pizzas that are best. The margherita and marinara pies are consistently excellent and served by brisk, casual waiters who are quick to flirt and crack jokes. There is outdoor seating in the summer, a veritable necessity considering the heat of the pizza oven.
•
Piazza Santa Maria della Liberatrice 44; +39 06 574 6270. Closed Sun; dinner only
La Fucina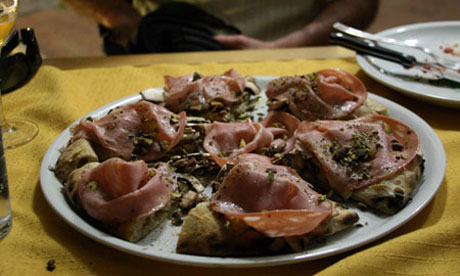 La Fucina, which opened in the Portuenese neighbourhood in southern Rome in 2009, serves pizza
a degustazione
. That is, patrons each order a pizza and the pies arrive pre-sliced one at a time so diners can share. This may not seem like a revolutionary concept, but it completely diverges from the traditional Italian approach of each person ordering his or her own personal pizza, which arrive at the same time, unsliced. With unusual selections like courgette flowers, red shrimp, mozzarella, and cured pork fat, or mortadella and Sicilian pistacchios, sharing is a pleasure, and gives guests the opportunity to try topping combinations that are completely unique in Rome. There is also an impressive wine list and proprietor Edoardo Papa will gladly help you pair the correct wine with your meal.
•
Via Giuseppe Lunati, 25/31, +39 06 559 3368,
pizzerialafucina.it
. Closed Sun; dinner only
Life Pizzeria Bio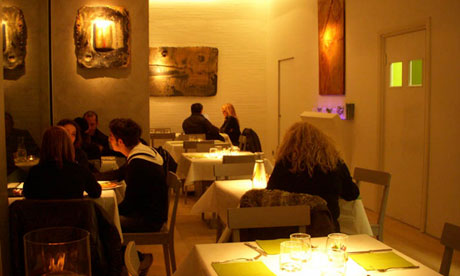 Life Pizzeria, which recently opened in Rome's northern periphery, is the city's first organic pizzeria. Among the selection of pizza and calzones, there are several proposals for vegan variations, virtually unheard of on Roman menus. Vegetarian options, including pizza with mozzarella, courgettes and onions, are made with local, seasonal toppings. The occasional imported ingredient works its way in, as in the
salmone controcorrente
with salmon, mozzarella, rocket, and ginger or "Eros" with tomato, chili pepper, basil and dark chocolate powder.
•
Via Cassia 701, +39 06 332 65318,
lifepizzeriabio.com
. Closed Mon, dinner only
Li Rioni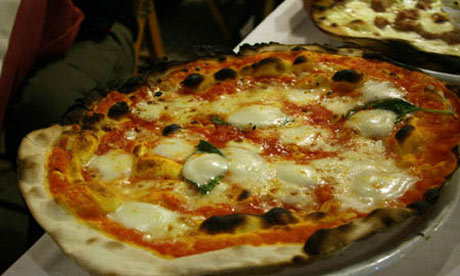 A small wood-burning oven at the back of the pizzeria turns out hundreds of thin crust Roman-style pizzas every night. This busy neighbourhood pizzeria located just a few blocks from the Colosseum sees its share of tourists early on, but from 9pm until midnight hungry locals show up in droves and queue for tables. In the summer there is outdoor seating, while the year-round seating inside is set in a room decked out like an old Roman street scene. Folklore value aside, the pizza at Li Rioni are consistently good, particularly the sausage and mozzarella pie, and the margherita is among the best in the centre of Rome. Due to its popularity and the small size of its oven, service can be quite slow at peak hours.
• V
ia dei SS Quattro 24, +39 06 704 50605. Closed Tues
Pizzarium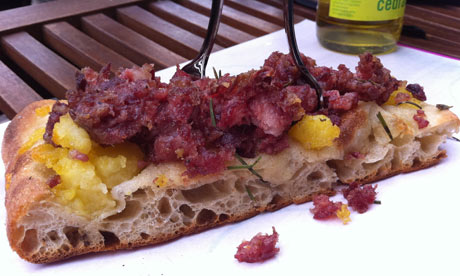 Pizzarium, owned by Gabriele Bonci, Rome's most famed pizzaiolo, gets better and more famous with each passing year, but it still occupies the same small storefront is has since opening in 2003. Bonci uses organic stone ground flour, sour dough starter, prolonged leavening and quality toppings to produce quadrilateral works of art. Toppings change regularly and can be quite creative (rabbit, raisins, and fennel greens come to mind), but classics like
pizza alle patate
(with potato and mozzarella) and pizza rossa (with a rich tomato sauce) are constants. Pizzarium also sells excellent
suppli'
(fried balls of rice with fillings) and bread.
•
Via della Meloria 43, +39 06 397 45416. Open daily
00100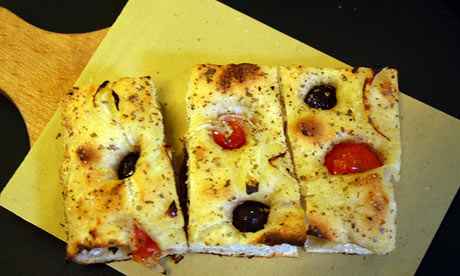 Brought to you by the men behind Sforno, 00100 is a pizza-by-the-slice joint just off Piazza Santa Maria Liberatrice in Testaccio. Its toppings remain fairly consistent – you'll always find "Greenwich" (stilton, mozzarella and port) and "pizza in bocca" (prosciutto, sage, and mozzarella)– but you will also occasionally find
focaccia pugliese
, a southern Italian specialty studded with cherry tomatoes and olives (watch the pips!). There are also other snacks to choose from, including a number of
suppli'
inspired by Roman dishes. 00100 is also home to the
trapizzino
, a triangular pocket of fluffy dough that is stuffed with typical Roman ingredients, such as tripe with tomato sauce and mint, bits of oxtail braised with celery and carrots, tongue with a parsley garlic sauce, or chicken with bell peppers.
•
Via Giovanni Branca 88, +39 06 434 19624,
00100pizza.com
. Open daily
• Katie Parla is a food historian and author of the food and travel blog
Parla Food